'Figure Fantasy' – Everything You Need to Know about the 'That Time I Got Reincarnated as a Slime' Collab
'Figure Fantasy' – Everything You Need to Know about the 'That Time I Got Reincarnated as a Slime' Collab
After bopping their heads to the beat of Hatsune Miku's masterful melodies, fans of Figure Fantasy can enjoy a new collab event in the special Figure Fantasy x That Time I Got Reincarnated as a Slime crossover. Komoe Technology Limited's figurine-themed 3D RPG on mobile will welcome new figurines into the game for a limited time, along with special costumes, login bonuses and more.
New collab figurines for a limited time
Fans of the hit That Time I Got Reincarnated as a Slime franchise can expect all-new limited figurines "Rimuru Tempest" and "Milim Nava", with the former having a rate-up chance for players to score in the summons pool. The "Vanguard" figurine will also come with the classic "Gluttony" skill in keeping with the theme of the special crossover.
Meanwhile, the Demon Lord with a pink ponytail will be a special "Star Destiny Figurine" – "Milim Nava" will be available in the gacha as well as a 1/7 figurine.

Special packs for limited costumes
Additionally, Special Edition Costumes "Rimuru – Demon Lord's Throne Ver." and "Milim – Demon Lord's Daily Ver." will also be up for grabs. Players will have to purchase special packs to acquire these costumes for slime "Rimuru Tempest" and his best mate "Milim Nava".
In particular, the two 1/7 figurines will feature "LET'S RED" and "SNOW-A" brands, and "Milim Nava" doesn't even need any upgrades!
Limited-time events and new story levels
In the all-new story levels "Demon Lord's Proof" and Promotion Event "Demon Lord's Trial", players can upgrade "Rimuru Tempest" to "Collector 3 Stars" for a free Collab Special Edition "Demon Lord's Throne Ver." Plus, the Event Exclusive Dynamic Emote is obtainable once a player upgrades to "Collector 5 Stars".
Meanwhile, the "Demon Lord's Descent" Series Events will give away a "Milim Nava" figurine as well as some "Star Crystals" when completed. And finally, in the Figurines' World Adventure Achievement Tasks, players can acquire "Rimuru Tempest" and "Limited Blind Box Cards" for participating as well.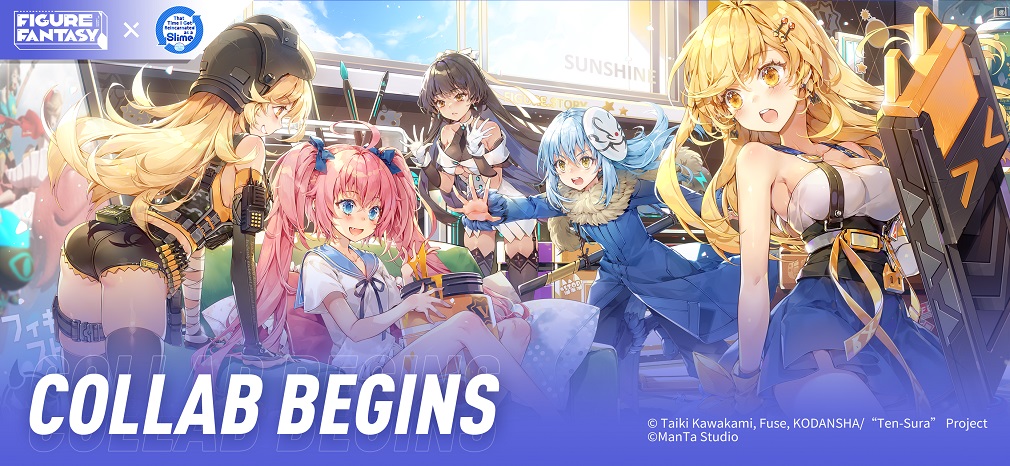 If you're eager to get a slice of the pie in the limited collab event, as well as reap rewards from the login
bonus event and score limited packs, you can download
Figure Fantasy
on the
iOS App Store
and on
the
Google Play Store
for Android devices. It's a free-to-play game with in-app purchases. You can also
join the community of followers over on the official
Twitter
page and official
Facebook
to stay updated on
all the latest developments, or visit the official
YouTube
channel for more clips and announcements.
Based on the manga "TENSEI SHITARA SLIME DATTA KEN" by Taiki Kawakami, Fuse, MitzVah,originally serialized in the Monthly SHONEN SIRIUS magazine published by KODANSHA Ltd.
(c) Taiki Kawakami, Fuse, KODANSHA/"Ten-Sura" Project
(c)ManTa Studio
This article is sponsored content written by TouchArcade and published on behalf of Komoe Technology Limited to promote a special limited time event in Figure Fantasy. For questions or comments, please email
Source:https://toucharcade.com/2022/04/08/figure-fantasy-slime-isekai-crossover-event/